After a month office training/work and Astro break I have started pending consultations. Small ones first and big ones later.
While consultations still not streamlined as I have to move to new house due to recent developments on March 17, 2020.
The developments were disturbing normal flow of astrology and I believe I should go in flow to move to new house.
Case 1 - 25 years in Marriage and doubt by Husband for an affair - Punarvasu Pada 1 (My Focus)

Consultation on 18-03-2020
Click the image to enlarge.
To add Chart image like below refer to
https://lunarastro.armorforums.com/4561/2659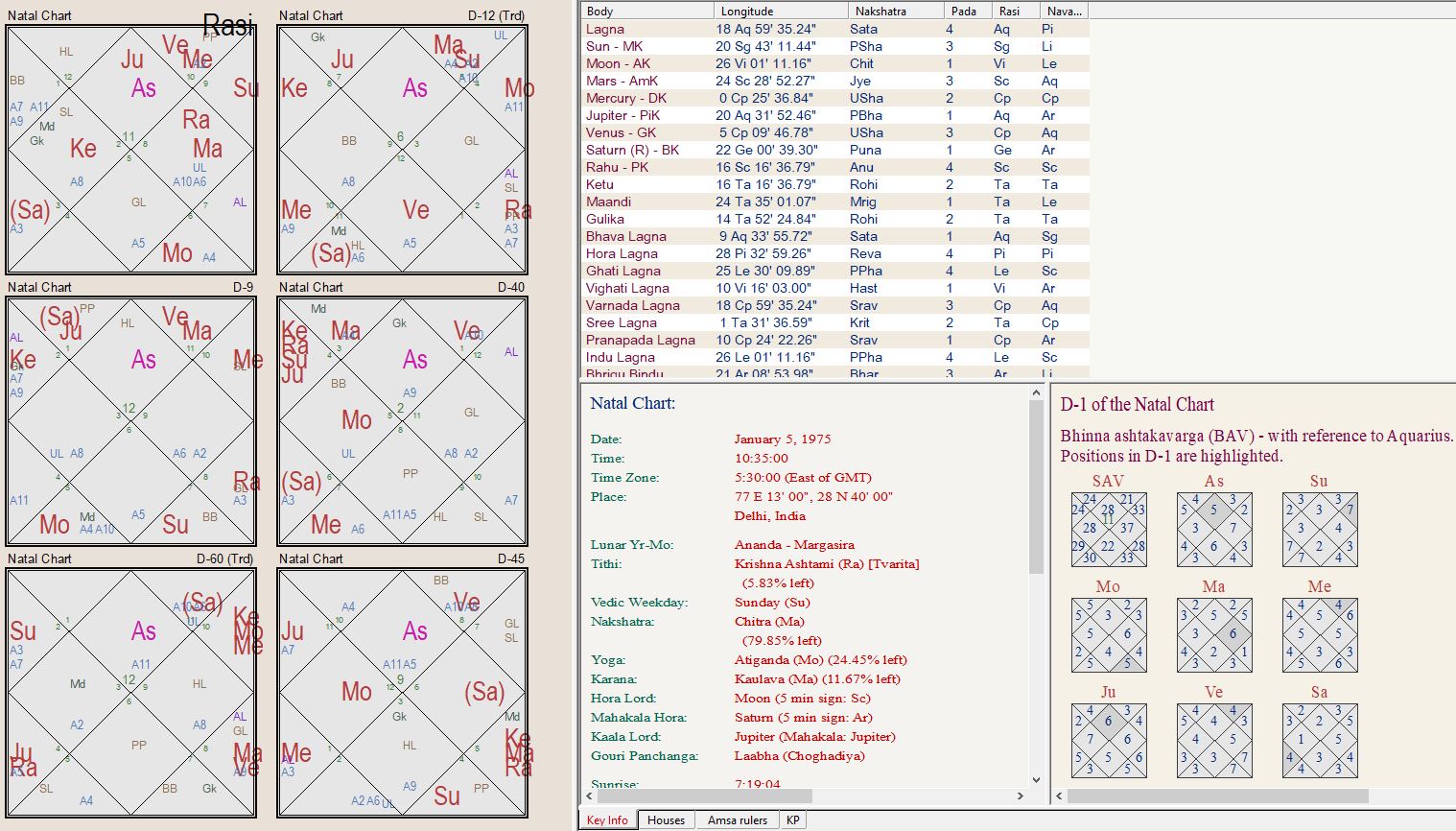 Background/Nimit
- I had some issues related to house a day before this consultation. However still went for this consultation even when was worried for me to be not in perfect mindset. Lady is house wife and into 25 years of marriage with issues in relation with husband recently even after having two kids studying in college. I was sceptical as how to talk to person as its difficult to believe affair after 25 years of marriage.
During consultation lot of my negative predictions went wrong initially due to my mindset and I was happy about it as her life does not have big issues and I changed my prediction style during call to counselling style and started telling her Stories of Ramayan. Lady have never contacted astrologers while someone convinced her of me so she tried contacting and satisfied.
Predictions
Prashna Predictions.
Choose a number between 1-108
Ans - 7
You are either wearing red and white or sitting on it right now.
Ans. Astonished, yes, I am wearing red and white dress and sitting on White bed sheets with red flowers on it. Even something is kept red around me.
Ok All seems fine lets start
1. Relationship with husband is disturbed because your husbands doubts you having an affair with sibling Husband.
Ans. We are 6 sisters and Yes, My husbands thinks that I am having affair with my sister's husband. As we are very comfortable chatting on whatsapp. My only mistake was I deleted messages which made my husband suspicious. Even my kids have explained him that we know mom and we are with mom whole day nothing like that happen.
2. You mistreat servant, gate issues, You boost about your kids and pressure them for going high, You have big utensils at home- Old metal ones, you have charger//filter issues.
Ans. No, No, No ... Donates a lot to servant, Call them didi, Doesn't boost about kids and every parent pushes kids to high.
3. You waste lot of water / Food
Ans. No
I am still doubtful here.
4. See that lot of predictions going wrong which generally doesn't happen and also shows that your chart is not much afflicted regarding the relationship with husband. Which is good.
Ans. Yes, not much issues. Goes fine for weeks but when that topic comes then arguments for sometime then back to normal.
5. See, I am sure of my predictions and also sure from where the issue is coming from so stories will match for sure. Your story relates to 1994 around Feb you had an intense relationship with someone which is back firing now. Keeping your age in mind. I am just using the word intense while you can draw conclusions from it.
Ans. Why 1994 thing effecting now and how is this possible.
I get that you can use any word as now we are discussing openly.
Yes, I was around 20 years of age that time and start of year of 1994 I was involved with someone intensely. We were planning to marry and parents knew about it. As parents knew about it I was totally involved with that guy. However it didn't work out. It was a very short affair.
Prateek - It didn't also work because he was of different caste and culture
Ans. Yes, That's right. He was Gujrati and we are Marwadis
6. You also have registered a property in your name in 2014 end
Ans. Yes, my inlaws 30-40 years old flat is registered in my name for tax benefits and was registered in 2014. A big 3BHK house now planning to buy a 4BHK house.
7. You have long signatures
Ans. Yes I write my full name in signatures
8. Had issues in 1st baby like miscarriage
Ans. Yes, 1st one was miscarriage
9. Mother is very religious, you think a lot and you have skin issues
Ans. Yes my mother is very religious and I do think a lot and have lot of pimples on face then. My son also facing with extreme pimple issues.
9. Even after linking many stories she couldn't believe why its happening as she lived pious life through out.
I went into counselling mode to make her understand how these things work
Told her story of Ramayana of Ram and Bharat - sibling rivalry, Conspiracy related to property, travelling, treatment with that of lower class people like Shabri, Kewat etc
Ans You know, One thing is strange. I read Ramayan everyday by lighting a Jyoti in front of it and reading 5-10 pages a day. Then how this is coming on me.
Prateek - Wow, I am sure story relates to Ramayan while you read it daily what a linkage.' It means we are on right track.
I didn't notice this in chart but now I can see in chart where its coming from.
10. You are not reading the Ramayan you used to. You have disposed off a Ramayan book 2 years back.
Ans. Yes, Thats right, I was having a old Ramayan book which I disposed off in river 2 years back. Nahi karna chahiye tha kya?
11. You have few religious book which are in bad condition and torn too in NNW of house.
Ans. Cant say about direction right now. But I have lot of religious books and also book on Ramayan handwritten by my Uncle for me as a gift. But I haven't read it though. Books kept some are in bad conditions and torn too.
2-3 saal pehle kisi ne ramayan donate kiya
chacha sasoor ne diya
mu bole bhai ne ramayan diya hai
handwritten by him
Case 2 - Business, Qualification - diploma done, diamond polishing. downfall

Consultation on 14-03-2020
Click the image to enlarge.
To add Chart image like below refer to
https://lunarastro.armorforums.com/4561/2659
1. You are overweight
Ans. Yes
2. Travelling related business, throat/breathing issues when business doesnt work
Ans. Yes, a lot and throat issues only when business not working.
3. Want to do high margin business and dont want to go for employment as is greedy for position.
Ans. Yes
4. Buys branded items all time but to show off only, not to njoy or use. If buys something then instead of using it properly will very soon buy new.
Ans. Yes, buy as it is seen with some one and to show off that I too have it
5. Lot of interests in pets.
Ans. Yes, have lot of interest in pets, specially birds. interested in breeding of international pets and want to do business with it.
6. Will not be able to do it as you will not be able to separate a pet family
Ans. Yes, That's right. Someone Not able to do it.
7. See, Some how I see that doing business with pets will backfire as many pets will die due to suffocation and water issues and they will have a slow death which you will not be able to see properly but they will show tweaks in their behaviour.
Ans. Prateek Ji aap kuch aisa bol dete ho ki kahani bataye bina raha nahi jaata. Pani main chlorin bahut zyada ho gaya tha uske wajah se saari fishes mar gayi due to high chroine hypoxia. apne ke kafi samay tak pata hi nahi chaala. ajeeb behave kar rahi thi fishes Oxygen shortage and suffocation ke wajah se.
Yes, Had lot of fishes and aquarium where all fishes died due to high chlorine and hypoxia i.e. shortage of oxygen and related suffocation.
8. You dont get respect from people
Ans. Yes
9. Very emotional and drinks lot of water but wastes it
Ans. Yes, Drink lot of water with food and then have to go to washroom to excrete it out.
10. Diamond business downfall when dispute with sister
Ans. Yes had a terrible dispute with sister and GF and business went down. Sister ne Girl friend ke saath breakup kara diya aur gusse main mera gala daba diya
Sister made Girl friend to break-off as relation had lot of issues and chocked native's neck in anger. GF was is currently going through divorce case later wants to marry the native.
11. Lot of back pain
Ans. Yes